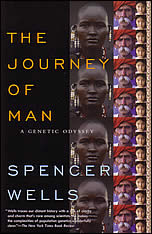 Acabo de oir esta conferencia de Spencer Wells (ya saben, mi sorprendente nueva pasión por el podcasting). Ha sido una conferencia muy interesante y entretenida, y eso sólo con sonido, cuando era evidente que el público se reía de algo que yo no podía ver (ahora mismo estoy escuchando el turno de preguntas). He quedado tan encantado que he decidido leer ahora el libro, que me regalaron por mi cumpleaños, en lugar de esperar su turno:
Around 60,000 years ago, a man–identical to us in all important respects–lived in Africa. Every person alive today is descended from him. How did this real-life Adam wind up father of us all? What happened to the descendants of other men who lived at the same time? And why, if modern humans share a single prehistoric ancestor, do we come in so many sizes, shapes, and races?

Showing how the secrets about our ancestors are hidden in our genetic code, Spencer Wells reveals how developments in the cutting-edge science of population genetics have made it possible to create a family tree for the whole of humanity. We now know not only where our ancestors lived but who they fought, loved, and influenced.

Informed by this new science, The Journey of Man is replete with astonishing information. Wells tells us that we can trace our origins back to a single Adam and Eve, but that Eve came first by some 80,000 years. We hear how the male Y-chromosome has been used to trace the spread of humanity from Africa into Eurasia, why differing racial types emerged when mountain ranges split population groups, and that the San Bushmen of the Kalahari have some of the oldest genetic markers in the world. We learn, finally with absolute certainty, that Neanderthals are not our ancestors and that the entire genetic diversity of Native Americans can be accounted for by just ten individuals.

It is an enthralling, epic tour through the history and development of early humankind–as well as an accessible look at the analysis of human genetics that is giving us definitive answers to questions we have asked for centuries, questions now more compelling than ever.