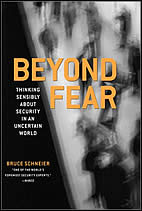 En nombre de la seguridad se están tomando muchas medidas. Algunas de ellas parecen razonables, otras no tanto y otras parecen no tener nada que ve con la seguridad y parecen más bien intentos de alcanzar otros objetivos invocando el miedo. Para empezar a evaluar esas medidas, y poder decidir cuándo son razonables y cuándo son producto de otros intereses, Beyond Fear. Thinking Sensibly about Security in an Uncertain World de Bruce Schneier parece un buen punto de partida:
SEARCHING KIDS AND GRANDMAS ACTUALLY IMPROVES AIRPORT SECURITY, BUT ARMING PILOTS MAKES US ALL LESS SECURE.

REPLACING PAPER BALLOTS WITH COMPUTERIZED VOTING MACHINES IS A HORRENDOUSLY DANGEROUS IDEA.

SHOPPING WITH A CREDIT CARD ONLINE IS JUST AS SECURE AS USING IT OVER THE PHONE OR BY MAIL.

NATIONAL ID CARDS WILL SIGNIFICANTLY WEAKEN NATIONAL AND PERSONAL SECURITY, AND MOST ID CHECKS ARE VIRTUALLY WORTHLESS.

These, and the dozens of other surprising insights in this book, will help you develop a keen sense of what today's most talked-about security measures can and cannot do.

Security is not mysterious, Bruce Shneier tells us, and contrary to popular belief, it is not hard. What is hard is separating the hype from what really matters. You already make security choices every day of your life, from what side of the street you walk on to whether you park your car under a streetlight. You do it naturally. This book guides you, step by step, throuh the process of making all your security choices just as natural.

Schneier invites us all to move beyond fear and to start thinking sensibly about security. He tells us why security is much more than cameras, guards, and photo IDs, and why expensive gadgets and technological cure-alls often obsucre the real security issues. Using anecdotes from history, science, sports, movie, and the evening news, Beyond Fear explains basic rules of thought and action that anyone can understand and, most important of all, anyone can use.

The benefits of Schneier's non-alarmist, common-sense approach to analyzing security will be immediate. You'll have more confidence about the security decisions you make, and new insights into security decisions that others make on your behalf. Whether your goal is to enhance security at home, at the office, and on the road, or to participate more knowledgeably and confidently in the current debates about security in our communities and the nation at large, this book will change the way you think about security for the rest of your life.
[Estoy escuchando: «Recurrence-I'm a Dreamer» de Various en el disco Everyone Says I Love You- Original Soundtrack Recording]
—–